Create Recycled Garden Art
We've all heard the phrase that one man's trash is another man's treasure. In this section I think you'll find this to be very true. Hi, my name is Doug and I want to show you how you can create art for your garden using ordinary objects that have been discarded. Below are some examples of how I took objects that were either given to me, bought cheap, or were being tossed out, and then I recycled them into art for my garden. Maybe you're like me, you hate to see anything thrown away, especially if it can be turned into something useful. Besides the low to no cost, another one of the benefits is you will have very unique art. You don't have to buy expensive art for your garden. You can create it yourself using found objects that you have rescued from a fatal date with your local landfill.
If you do decide to purchase new art for your office or personal space, doesn't it make sense to buy objects that have been recycled from something else? There are many artists who like working with reclaimed materials. You benefit by having very unique sculptures with a history. The earth benefits by reducing the trash sent to the landfills. It also reduces the need for mining the earth for brand new raw materials that are necessary to manufacture new products.

Click on photos for larger size.

---
Let's start with a very simple project.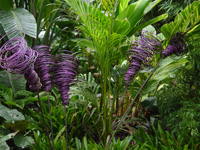 I had a box springs that was too far gone todonate, so in order to keep it out of the landfill, I disassembled it, saving most of the resulting parts, even though I didn't know yet what they would become. I saved the fabric to use as a drop cloth for painting. The wood frame I saved for future wood projects. As I removed the springs, I was stacking them together when it occurred to me that they looked a lot like flowers. They easily screwed into each other because of their corkscrew shape. I divided them into 5 stacks for 5 flowers heads, but now I needed stems. The bed had a heavy iron rod rectangular shaped frame around the perimeter, so I cut it into 4 pieces using my handy dandy bolt cutter. Fortunately I had an additional rod in the garage for the 5th stem. I simply shoved the rods into the bottom end of the flower heads and that's all it needed to stay together. I stuck them in the ground and called them "spring flowers". Later I added a bit of color with some purple spray paint. It was easy and simple, resulting in a very unique garden sculpture.

---
Bowling for art.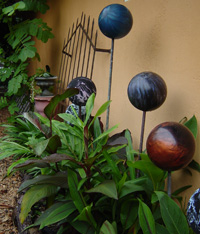 Another simple idea is this sculpture
made using colorful bowling balls purchased at local thrift stores. I bought them over a period of time because I like to scatter them around my garden for added color, and I like the shape. The balls were placed on top of copper pipes by shoving the pipe into one of the finger holes, then the other end of the rod was pushed into the ground. It doesn't get much simpler than this to create a unique garden feature. The rods can be whatever you can find. I just happened to have some old copper pipes left from a remodel job. If you don't have anything handy, you can buy some inexpensive pieces of re-bar at your local big box hardware store in the cement department.
---
Anyone up for a game of cards? I saw a round folding card table that my neighbors had put at the
curb for garbage pick up, so I walked over and rescued it. It had a metal frame and legs and a thin masonite round top covered in naugahyde, which is simulated leather made from vinyl. After disassembling the table, I got the idea of hanging the large round top on one of my outside house walls to represent the sun hanging over my collection of plastic pink flamingoes. I must point out that this setting is at a place in my garden where no one can see it except me when I'm sitting in one of my favorite chairs under the pink grapefruit tree. The scene reminds me of one of those documentaries about wildlife in Africa where the sun always seems enormous. Please note the recycled broken ceramic tiles used as a mulch. By the way, I saved the round metal frame and legs for a future project
---
Who said you can't hang a painting outside This photo was taken in my previous garden in
Atlanta. A good friend and neighbor made this painting using plaster and paint on masonite. He decided to toss it and asked if I wanted it, so I hung it on my fence. By the time this photo was taken, it had been there a few years and was beginning to deteriorate. I didn't mind that because it fit right in with the theme of the ancient architectural element in the painting. To me there is great natural beauty in things that are decaying. Water seal can be applied to prolong the process.
---
Yikes, snakes in the garden. I borrowed this idea from artist Georgia O'Keefe. Simple smooth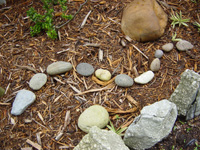 river stones placed in the form of a snake. It can't get much simpler than that, yet it adds such an interesting element to be discovered by anyone who cares to notice.
---
Stumped for an idea? Try this one. I found this rotted stump from a giant oak tree curbside after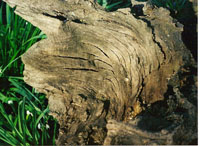 someone pulled it from it's home of perhaps a century or more in the earth. I talked a friend into helping me get it home. I'm sure he thought I'd lost my mind, but I saw a beautiful sculpture that had been discarded. I turned it upside down in my garden where it added character and interest, as well as beauty for many years.. Keep your eyes open and alert as you travel the streets. You never know what you might find to enhance your garden, while at the same helping the environment by keeping it out of the landfill.
---
Stacked ceramic tiles make a terrific garden pedestal. One day I went to a local flooring store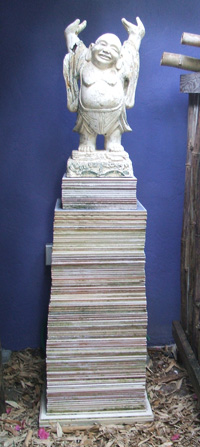 looking for discarded carpet to use as a weed block. There were several cherry laurel trees out front that were relentless in their attempts to create new trees, so I wanted to block the many runners from sprouting upwards. While I was there the owner asked if I knew of anyone who would want her old sample tiles. I immediately said I'd take them. I didn't have any idea what I'd do with them, but I knew I'd think of something. After selecting some for a bathroom mosaic broken tile project, I sorted the rest and stacked them by size to create this garden pedestal. One very important warning. Make sure you put down a solid level base first to make sure the stack stays perfectly perpendicular to the earth, otherwise it could end up leaning as the ground underneath it settles. I used a large square concrete patio block and a level after tamping the earth. By the way, that carpet idea didn't work. The cherry laurel sprouts forced their way right through the carpet, even with its heavy backing. I eventually cut the trees down because they were entirely too invasive for this small property. They're better suited where they have lots of room to spread.
---
Marilyn Monroe is what the artist titled this one of a kind wall sculpture made from 2 oil drum lids,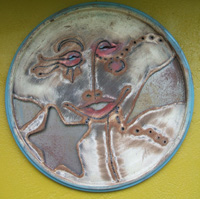 to give it extra depth. If you're handy with a cutting torch and welder, you too can come up with your own creative wall sculptures made from old oil drum lids. Check your yellow pages for scrap metal dealers in your area. They can be a terrific source for raw materials. Or just keep your eyes open along the curb right before trash day. Raw materials are everywhere if you're aware enough to spot them. Just make sure they are being willingly discarded
---
The itsy bitsy spider climbed up the water spout. This incredible, not so itsy bitsy spider and web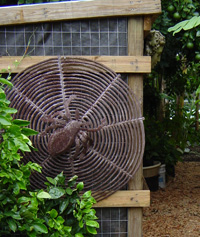 were hand crafted in Haiti from a 55 gallon oil drum that had been flattened and painstakingly cut by hand with a hammer and chisel. Haiti is a country with many artists but few raw materials. What they did have was a huge number of used oil drums, so someone got the very good idea to use these ugly steel containers to create beautiful art. This is now a thriving art form in Haiti.
---
I found this impressive sea serpent dragon at a local art festival called Images. It's a simple 4 piece design cut from
old rusted sheet metal. Each piece has a stake at the bottom so you can stick it in the ground just about anywhere making the dragon as short or long as you want. It's one of my favorite garden sculptures.
---
Fish gotta swim, even in your garden. Here are three examples of fish made from recycled oil drums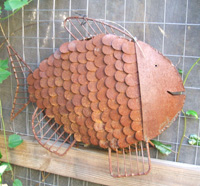 and other scrap metal. The first one was made in India. It's rather intricate because of the individual scales that were spot welded one by one. This might be too much for the novice welder, but it might give you some good ideas.
---
This painted fish was made in Haiti. Like the spider above, it too was recycled from a flattened oil drum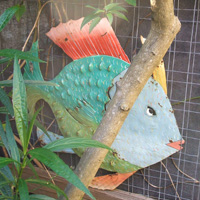 and then hand cut and hand painted.
---
A Georgia artist made this graceful garden fish from recycled steel, with a post that allows it to be
positioned just about anywhere. Here it shows up well against the contrasting wall color.
---
Birdhouses are a great way to use recycled materials. They can be made from old worn out cedar or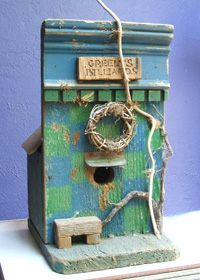 treated pine fence boards, rusted metal roofing, or anything else you can come up with. Go to your garage and see what you can find to work with. Get creative. Think of a way to recycle something that would never normally be used to make a birdhouse such as an old computer housing.
This one was made many years ago by a good friend who is no longer with us. She used fence boards and wood trim that she found along the curb left for garbage pick up. Whenever she would see someone removing a fence or old shed, she would talk to the owner to ask for the materials that she could use. She made birdhouses for a living so the style was often dictated by the available materials. She added her own distinct touches with paint and things like the little wreath that she bought at a crafts store. Some of the early ones even had tiny porch chairs.
---
Neon can make a bold statement in your garden, especially at night. I used to collect old neon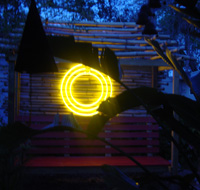 simply because I love the bright garish magic of it, and I had access to it occasionally when living in Atlanta. As buildings and neon signs were abandoned, there were enterprising young men who salvaged the gas and glass advertisements from a previous era. I found this one in a newspaper ad. It had originally been the O in a large Kodak sign that stood for many decades on top of a local building until it went dark when the building changed hands. I later installed it on my then new garden bench here in Florida, but I soon removed it when a hurricane was on its way. It now hangs in one of my windows inside where it's protected. For those of you who don't live in the path of hurricanes, neon can be a great focal point for your evening garden parties. Many stores are now selling new neon, so this is still an option even if you can't find anything vintage. A few words of caution, make sure squirrels can't get to it because they can easily snap the glass, thinking it's a tree limb for them to climb on. Also, be aware that neon is ignited by an electric current that is enhanced by a transformer. Make sure any bare wires are covered and inaccessible to inquisitive fingers. Neon is merely glass tubing with neon gas sealed inside. It's very fragile so be careful.