Ideas about Recycling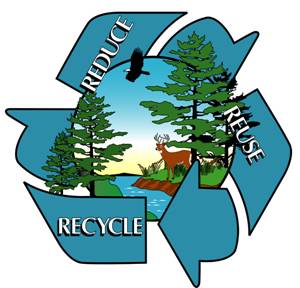 Here in the United States we have been very fortunate to live in one of the most prosperous countries on earth. I think this has lulled us into a false sense of endless prosperity. As we've all suddenly learned over the past year, that party of endless spending is now over. We've been forced to learn the hard way that there is not an endless supply of money for us to spend on things we don't need.
Recycling is something that has been very important to me for many years. I hope it's important to you too because I believe that we citizens of the world are much too wasteful. This is especially true
An even more important lesson that most of us have yet to learn is that there is not an endless supply of raw materials that are necessary to produce all those gadgets and gizmos we think we can't live without. I think most people have no idea just how many raw materials must be mined and blasted from the earth in order to provide the necessary ingredients to make a cell phone, a computer, an automobile, a highway, a tube of toothpaste and so on. On top of that, we are so addicted to our many luxuries that we are now polluting ourselves into possible oblivion with our gas consuming cars and electricity demanding lifestyle. Every time we drive to the store or turn on a light switch, we're unavoidably adding to the problem. As alternative and renewable sources of power gradually become more accepted, this trend can and must change, but the best way we can make a difference right now is to become much less wasteful. Less wasteful with our utilities, with our purchases and with our daily habits. Recycling is one small way we can all help solve this problem.
With this website I'd like to try to become part of the solution. I've been recycling for many years now. I'm not sure what motivated me in the beginning other than a deep seated need to never let anything in my care be thrown away unless there was no possible way it could ever be used again. I used to jokingly say I must have lived a previous life during the great depression of the 1930s. Whatever the reason, I'm very glad I am this way.
We as a people have become much too apathetic when it comes to our environment. Yes, we've made much progress over the past few decades, but we still have a very long way to go. We haven't even begun to scratch the surface of what we could and should be doing. I decided to use this website to share some of my own ideas and thoughts on the subject. If I can motivate even one person to begin recycling, then it will be worth the effort.
I have already created some pages here to give you some ideas about how you can recycle in your garden, but in time I want to touch on many other subjects concerning recycling. What can be recycled. How it can be recycled and where you can take it to be recycled.