Create Recycled
Garden Design Elements

The manufacturing of new products requires a constant flow of raw materials that are gradually depleting our planet's natural resources. At the same time our landfills are growing out of bounds, being filled with things we think no longer have value. This system is NOT sustainable, so why not start right now to change the harmful trend.
Being an environmentalist at heart, I've always preferred recycling everything possible. We all need to start thinking in terms of how we can re-claim and re-use discarded things, rather than always buying new and throwing away the old. Even one person changing bad habits into good habits is a step in the right direction, but collectively we can help alleviate some of our current environmental problems.
Below are some ideas that you can use in your own garden to create beautiful decorative elements using re-purposed objects. These are all projects I've done myself. If I can do it, so can you. Some of the benefits you'll see are:

1. You'll have decorative features that are unique and one of a kind
2. You'll reduce the waste of new product packaging such as cardboard, plastic wrapping and styrofoam padding.
3. The cost is usually zero, or close to it instead of a high end retail price.
4. You'll have the satisfaction of knowing you're making the world a better place by doing your part to reduce your environmental footprint.
These are my own personal stories, but you can create your own. The next time you have a project in mind for your home or garden, instead of jumping in the car to drive to your local hardware giant, think outside the big box for a change. Think about what can be recycled, maybe from forgotten things stored in your own basement, attic or garage or found curbside in your neighborhood. Keep your eyes open when you're out and about. Look for salvageable raw materials that are being discarded. You might even find great discards out behind some of those big box stores. Thrift stores are also a great source for inexpensive materials. Have fun with it.
---
Rocks are always wonderful additions to gardens, but when you live in flat sandy Florida, rocks
can be very expensive and difficult to come by because, except for coquina, they must be shipped in from somewhere else. I've found that a wonderful and usually free substitute is broken concrete. Soon after I moved here and was well into creating my garden, I discovered a huge pile of broken concrete at the local theatre where extensive renovations were being done. While I was getting permission to take the concrete, I learned that this was part of the original theatre floor. It was obviously a high grade of concrete because of the large amount of small gravel imbedded in the concrete making it look much like granite when broken. All in all I made about 30 trips with my little dependable truck, and today my "rocks" edge and define the pathways that meander through my garden. I have since found other discarded concrete "rocks" that I have used to keep raised beds away from my patio. You must keep your eyes wide open and alert while moving about your local streets, because available raw materials are everywhere if you learn to recognize them. You must also be quick before they end up in the landfill. Photo note: I didn't have the heart to pull the stray zinnia in the middle of the path. Like with dogs, you learn to step around them.


---
Another great and usually free material for gardens is chipped wood (see above photo). I was fortunate to have access to a lot of chipped wood from the hurricane downed trees a few years ago. The city offered it free to anyone who wanted to truck it away. I brought home at least 50 truck loads. That program has ended but occasionally I'll luck onto some tree guys who have a chipper on their truck. They're often looking for a place to dump the chipped limbs, so don't be bashful about asking if you can have it. Your garden will respond by looking 100% better. You can use it on the paths or as mulch around the plants. It'll not only visually improve your garden immediately, but as the wood and leaves break down over time as decay sets in, they release their nutrients into the earth, becoming food for your plants.

---
A more elaborate, yet quite utilitarian idea is this novel method of hiding an ugly, albeit necessary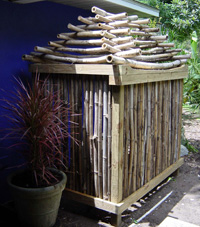 air conditioner, using giant 30 foot bamboo stalks that had been chopped down to make way for a fence. In this case the bamboo was found through a local Penny Saver ad because the man cutting the bamboo was smart enough to know it had value. Bargaining began and the resulting cost was a mere $20 for the entire pile, resulting in enough timber to build a bamboo fence and the structure at left, which was created using the leftover pieces that were anything but straight. The framework was made using four pressure treated pine 4 x 4s sunk into the ground and secured with cement. The three side panels were each made with pressure treated 2 x 4s on the top and bottom and the bamboo pieces were then nailed onto them creating stability. Each panel was then attached to the 4 x 4s with screws so they can be easily removed for maintenance of the unit. The Asian influence was naturally achieved by taking advantage of the curved pieces of bamboo. They were stacked and nailed on top of each other two by two until reaching the top. This is a good example of a very simple idea resulting in an impressive structure that fits right in with the small Japanese style garden around the next corner from it.

---
Using the straightest bamboo canes, this bamboo fence first required a framework of pressure treated 8 foot 4 x 4s imbedded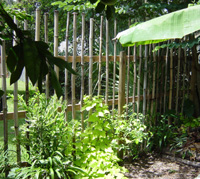 vertically into the ground with concrete about 2 feet deep - and 3 levels of horizontal 2 x 4s. The bamboo canes were then cut into somewhat uniform lengths, 8 foot in this case, although to add character the lengths vary within an inch or two and were placed 5 or 6 inches apart. This lends a somewhat more natural look to the fence and the openness allows the breezes to pass through. If you want to blot out your neighbors altogether, simply plant climbing vines at various intervals to encourage a heavy growth to cover the structure. Alternatively, standard dog eared style fence boards can be added to the opposite side to achieve that same goal, while leaving the bamboo on your side for less aggressive vines to climb on.

---
Friends can be a great source of not only plant material for your garden, but also non-plant material such as these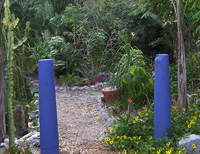 wonderful old solid concrete columns that were salvaged from a house that had burned down. They once stood proudly on their large bases while holding up the porch roof of an Atlanta home. They were given to me many years ago by an Atlanta friend who is also an avid gardener. After standing at the entrance to my Midtown Atlanta rear garden for many years, there was no way I could leave them behind, so they moved with me. They now flank the entrance to my front garden in Florida with a coat of rich deep Moroccan blue paint.

---
This pathway material has great sentimental value for me, which is why I hauled it to Florida with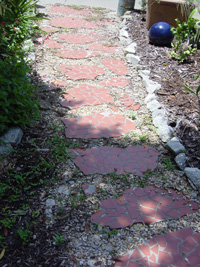 me when I moved here. It was once the front porch floor of my long time good friend and Atlanta next door neighbor. Mary was a fellow gardener who died in the prime of her life at age 89. In her last year, she was no longer able to get into her garden like she once did, but one day I came home for lunch and there she was sitting on a turned over bucket pulling weeds with her nurse standing by in case of trouble. What's that old saying about old gardeners never die, they just get weeded out? .

After her house sold and was being renovated by the new owner who pulled up the old porch floor, I asked if I could have the pile of broken terra cotta tiles that were imbedded in concrete. Later, I gave most of it away, but I brought this small amount with me to Florida as a remembrance of Mary and all those years of her friendship. I can still enjoy the stepping stones because they're in my garden and not in a landfill.
---
There are several recycled elements in this photo. The pedestal was some sort of heavy machine housing that I found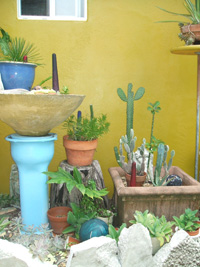 at a rental property that I bought years ago. I inserted a stepping stone that fit perfectly on top, painted both blue and voila. I made the large planter sitting on top. I used a large 24" diameter metal bowl that I bought at a yard sale for $1. I turned it over, covered it with plastic and poured thick concrete over the entire thing shaping it by hand. After it dried I pulled it off, removed the plastic and drilled drainage holes using a large masonry bit. The tall pedestal on the far right, partially out of view, is nothing more than a round board I found in the garage. I painted it, then attached it to a metal threaded end pole and threaded adapter. It's shoved into the ground and has been there a few years without leaning. I even used an old tree stump as a short pedestal at the back. The red and blue glass cylinders were given to me by a friend and former supplier of art from India. They were originally long glass vases made to fit into iron wall holders. I asked her to save for me anything that broke and this is part of the many things she gave me. I turned them upside down and pushed them into the potting soil where you can't see the broken ends. They add an interesting element to a pot of succulents. I like using pedestals and other things to give some height to a setting like this against an exterior wall. It allows me to fit a lot of plants and other interesting objects into a narrow space.

---
Seating is very important in a garden. I like to have several strategically placed seats scattered around my garden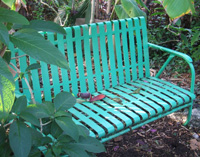 where friends can sit and have a completely different view from each one. As with most things introduced into my garden, I don't mind when they are old and used. Often I prefer they be a bit aged. This makes it easy to select seating that is often free. This wonderful old vintage iron garden bench came to me through my dentist who is also a long time good friend. One of his patients told him she was looking for someone to take it, so he thought of me. A new coat of paint made it fresh and vital again. It seems over the years I've become a magnet for useful freebies such as this.
---
This interesting structure was built using limbs from trees that I removed shortly after purchasing my current home.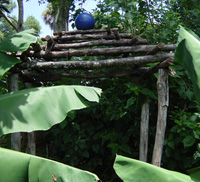 There were too many trees struggling for the same small amount of space. Instead of sending them to the landfill, I decided to recycle them by creating this simple structure. The finial on top is a blue bowling ball found at a local thrift store. The largest pieces were treated with a water seal suitable for wood and then painted with tar before sinking them into the earth. An occasional coating of sealer will make this structure last for a few years. Paint is also an option to give it a new look in the future . It no longer stands, having been a victim of one of our hurricanes, but it lasted about 3 years. The remnants are now scattered around the garden where they continue to decay adding nutrients to the earth.
---